WE ARE NOT YOUR USUAL FAT LOSS CAMP!
REVAMPED 6 WEEK CHALLENGE
It's simple. Apply, attend an orientation, get accepted, follow the rules, lose 20 or more pounds and your transformation is FREE.
Our workouts are short, fast-paced and fun and they'll have you looking better and feeling better in no time.
We know not everyone is the same, so our fitness and fat loss solutions are specific to YOUR goals, YOUR body type and YOUR life.
You'll be held accountable. You'll have support from staff and other challengers.  We provide step by step guidance the entire program.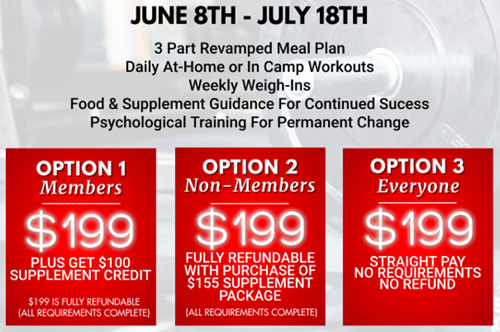 Want more information on our REVAMPED SIX WEEK CHALLENGE?
ENTER YOUR INFO BELOW
If you are ready to sign up, please use the form at the top of this page.
*We will never sell or give away your information and intend to use it only to get in contact with you for this program.
All I ask my clients to do is show up and follow my instructions.

Travis Garza
Revamped Six Week Challenge
Give Us 6 Weeks
Trust us, if you are motivated, you can do anything for six weeks. We want dedicated individuals who can follow instructions and have the desire to make life altering changes to their health.  Show up, do the work, lose 20 pounds and your body transformation is 100% on us.  No gimmicks, no tricks.  Your success is our best advertising!